Belcampo Lodge Belize – Rainforest Luxe
Posted by in
Uncategorized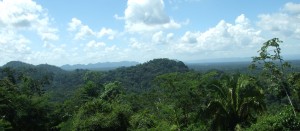 Think staying at a jungle lodge in Belize means roughing it? Think again. This boutique lodge, perched on 12,000 acres of pristine Maya rainforest, with 3,000 acres of its own coffee, sugarcane and cacao plantations, organic farm and rum distillery, redefines the meaning of luxury. At Belcampo Lodge, in southern Belize's Toledo District, breathtaking views, modern design and indigenous gourmet cuisine, inspired by the region's Creole, Maya, East Indian, Garifuna and Mexican cultures amplify the natural experience.
A high-end treehouse, Belcampo has 16 private suites perched so close to the treetop canopy, you take in the fragrant rainforest air in huge, hungry gulps. An automated lift provides a shuttle to the loftiest rooms, although the walk through old growth rainforest is spectacular. At night, be lulled to sleep by a gentle cacophony of bird sounds. Try the open-air shower or hot tub and feel like a tree monkey in one of Belize's intermittent rain bursts. Wrap-around balconies, floor-to-ceiling windows and blue & white-stripes give the rooms a fresh, Mediterranean feel. Every detail of the lodge, from the woodwork to the artwork, is sourced from local artisans. Groups can reserve the entire top floor — with private entertainment area, butler service, observation deck,  saltwater infinity pool, private wet bar, lounge and barbeque. And over 70% of the food served comes from the lodge's own farm. No surprise it won the 2014 Conde Nast Award for Best Eco Property in Central & South America.
The lodge is part of Belcampo Farm, based in Oakland County, California. Belcampo Belize was originally a fishing lodge called El Pescadore before Todd Robinson, an avid marine conservationist, bought it and turned it into Machaca Hill Lodge. In 2009, Belcampo Farm's CEO, Anya Fernald, partnered with Todd to transform this rustic eco-lodge into an agritourism hub. Anya's high-profile career was launched at the Slow Food Foundation in Italy and she ran the Slow Food Festival in San Francisco for Alice Waters in 2008.
Since its inception, Belcampo has been dedicated to developing economic stability in the region through agriculture. It's the largest private employer in the Toledo district and is very staff-focussed, with fair wages and a healthy lunch program. The restaurant serves only locally-sourced, humanely-raised meats which they cure themselves. Fish and seafood is caught or raised through sustainable methods, supporting small scale, local fishermen. The lodge's goal is to be completely self-sustainable by 2018. They are already impressively close to producing not only all of their own indigenous vegetables, herbs, fruit, poultry (chickens, ducks, guinea fowl) and livestock (sheep, pigs), but also coffee and cocoa beans, vanilla and rum.
Renée Everett, Belcampo Belize's Chef and Culinary Director, who has been with the lodge since October 2013, tells me "My job is constantly evolving. It's the most fun I've had and the hardest work." She is originally from Chicago, where, fresh out of culinary school, she worked for several well-known restaurants. Renée's career really took off when she was a contestant on ABC's reality cooking show "The Taste". Celebrity chef Ludo Lefevbre offered her a job at his new restaurant Trois Mec in Los Angeles and Renee moved to L.A. Her decision less than a year later to decamp to Belcampo? "A recruiter called me on a Friday and I could think of a million reasons not to go," she says, "but by Monday I found myself thinking, Belize – why not?"
An average day for Renée doesn't take her much beyond the limits of the Belcampo property. The farm-to-table menu comes primarily from their own farm, but what isn't, is sourced from the Mayan villages and Mennonite towns nearby, or from the local Punta Gorda farmer's market. Creole on her mother's side, Renée finds there are many similarities between Belizean Creole food and the style of cooking she grew up with. Staples in Belizean Creole cooking include rice & beans with stewed or baked chicken, pork or beef, seafood and fish including conch and snapper and ground cassava, potatoes, cacao and plantain. Renée does Tuesday evening theme dinners, and along with traditional Creole dishes, such as Dogtooth Snapper with stewed tomatoes, sweet pepper, onion, rice and collard greens, she will do a Garifuna stew like Polo's Seafood Tapado, made with shrimp, snapper and conch, coconut broth, plantain and yam or Bundiga, a fish stew, often made with snapper, with coconut milk and green banana dumplings. Garifuna staples are fish and seafood with coconut and ground cassava or yams. Her East Indian dinners include Lamb or Beef Korma, and Tandoori Chicken with naan bread, Chana Masala (a chickpea dish) and eggplant with cardamom and ginger.
Renée's favorite dishes include the Puerto Rican-inspired Jibarito (pronounced "He-ba-rito") sandwich, made with plantain bread, and a Farm Chicken Escabeche (escabeche means smothered), a "Mexican onion soup" which uses slow-cooked soft onions, jalopenos and sour vinegar brine. Her Seafood Fritters, with locally-caught conch, are worked with cassava to make a flourless batter with eggs which is deep-fried, yet light. The "Running W Beef" dish is a hanger steak with pad thai, using natural peanut butter, coconut milk & almonds.
Renee has recently introduced the "Snorkel with a Chef" program. She dives for conch and lobster in the nearby Bay of Honduras with a spear and cooks them up for guests right on the boat. She takes groups on horseback foraging for cohune nuts. Belcampo also offers sunset cruises on the Rio Grande river (which the lodge banks on), a jungle spa, bean-to-bar chocolate courses (for adults and kids) and coffee-roasting demonstrations. The rum distillery is to be finished within the year, with a bar – on-site mixologists creating artesanal rainforest rum cocktails? I'll be back to try one!
Renée works closely with Richard Brinckmann, Vice-President, Belcampo Farms Belize since November 2014. Richard manages the farm's gardens, plantations and livestock operations. Richard also owns and runs an 880-acre farm in Belize with his partner, Marty, as well as a bed and breakfast called Sirmoor Hill Farm. They ran a successful retail florist business for 26 years in Gainesville, Florida, before making the decision to retire to Belize in 2006.  "The farm took on a life of its own," says Richard. "Plants grow much differently in a wet, tropical climate. Growing everything from fruit trees to pasture on our own farm gave me a lot of experience and insight into how do so on a larger scale." With an undergraduate degree in horticulture and a graduate degree in landscape architecture, Richard was originally hired by Fernald to design and redo the landscape for the lodge and create their agrotourism program. When the firm decided they needed an overall farm manager, they went to Richard.
Belcampo Lodge has helped put the Toledo district, one of the poorest regions in Belize, on the tourism trail. This means you can discover an untouched stretch of Central American rainforest, without having to compromise on comfort.
Diane Penwill is a Toronto-based writer and photographer whose Spring 2013 article for T&T on Croatia was nominated for the International Golden Pen Award.  Diane blogs at www.savouryplanet.ca.
Visit it:
www.travelbelize.org
To see the article as it appeared in the magazine, click on the link:
http://www.tasteandtravelmagazine.com/media/issue_20/belize/FLASH/index.html
You can follow any responses to this entry through the RSS 2.0 You can skip to the end and leave a response. Pinging is currently not allowed.