Rideau Antiques is a great place to hunt for hidden treasures
Article appeared in the Ottawa Citizen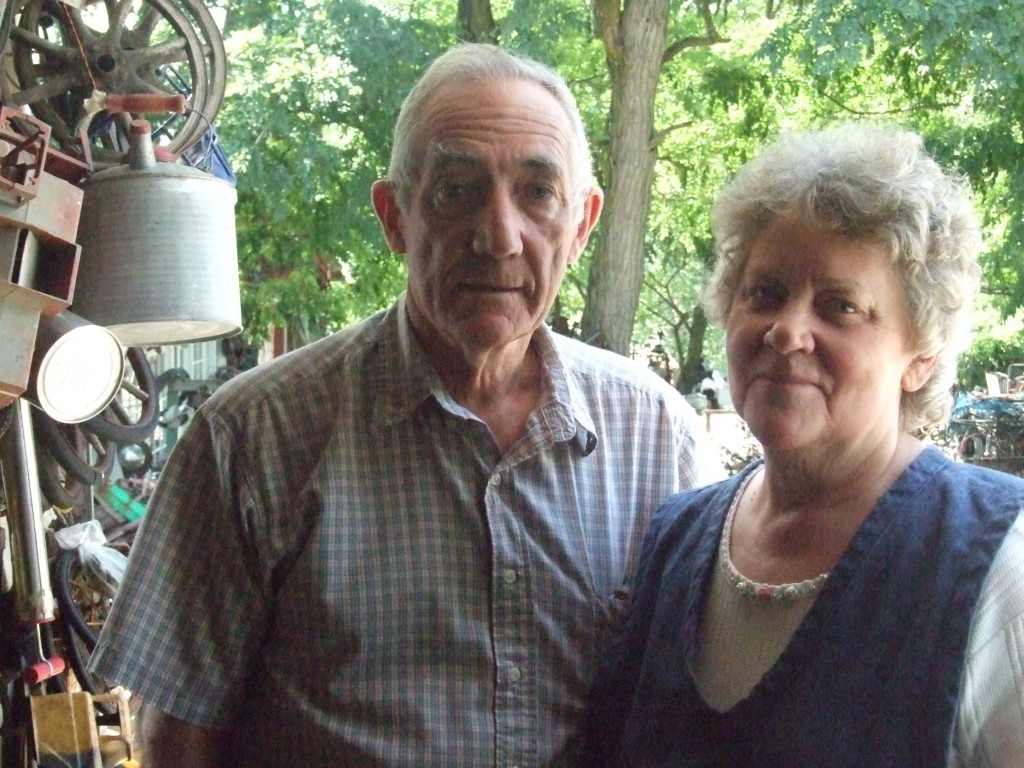 'Better not leave your bike in there, you'll never find it again," a man warns me as I dismount outside Rideau Antiques, in Eastern Ontario's Rideau Lakes District.
The store's sign is almost completely obscured by rusted bric-a-brac, as is the red brick face of the building and the entrance. It looks like a giant dumpster has unloaded its contents on the front lawn. Up close, the pile of junk is in fact an interesting mish-mash of century-old farm implements, delicate bedframes, 1950s metal patio chairs, children's toys and side and end tables of every description.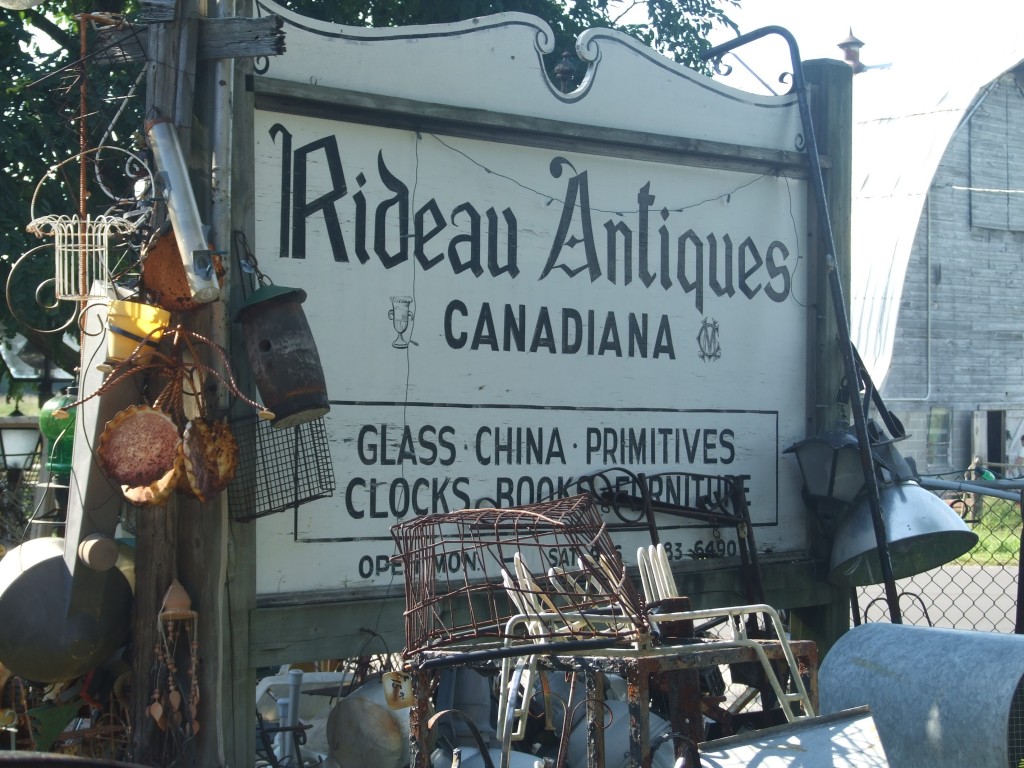 Inside, dinky toys hang from doorways while baseball and boxing gloves, catcher's mitts, snowshoes, riding acoutrements and musical instruments all compete for a nook or cranny to call their own.
Billed as Ontario's biggest single collection of antiques and second-hand items, it certainly must be the most eclectic.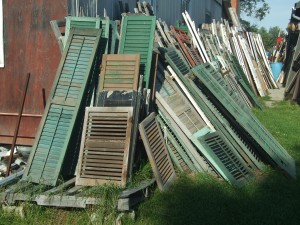 I make my way to the field at the back of the store and see tricycles peeking out of Queen Anne's lace that grows higher than a child's head. Dozens of antique bicycles pose in the goldenrod, as if for a vintage photograph. Narrow, open-air alleyways radiate out, resembling a Moroccan medina and creating a maze that makes it entirely possible to lose something or somebody. A small child or a bicycle could easily be obscured.
Clifford and Alice Miller have owned the business since 1962.
Clifford started the business in a small shed just a few miles away, near where he grew up. An ex-teacher from Smiths Falls, he still remembers the first piece of furniture he refinished.
"When I sold three in a row, I was hooked," he says.
What began as a summer job to keep him going between teaching assignments in Europe and Japan is now a family business he runs with his wife, son, brother, sister-in-law and a cousin.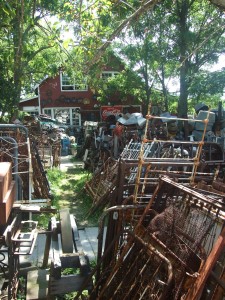 Clifford says it's the repartee he enjoys with customers that has kept him going for nearly 50 years.
"Either the aisles here keep getting smaller, or I'm getting bigger," remarks one regular.
I wonder how the Millers manage to keep track of their inventory. Short answer — they don't.
"We have no idea how much merchandise we carry," Clifford tells me.
But by constantly renewing their cache of local Canadiana, the Millers have kept customers coming back.
When I ask Clifford how he could possibly be knowledgeable in so many areas, he says: "I'm not an expert in anything.
"We don't specialize. Our diversity is the reason we stay in business — something for everyone."
Part of the fun of visiting Rideau Antiques is experiencing a sense of discovery. Because of the absence of any kind of order, your chances of uncovering a personal treasure overlooked by an earlier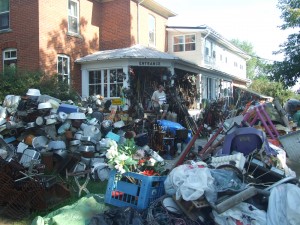 prospector seem good.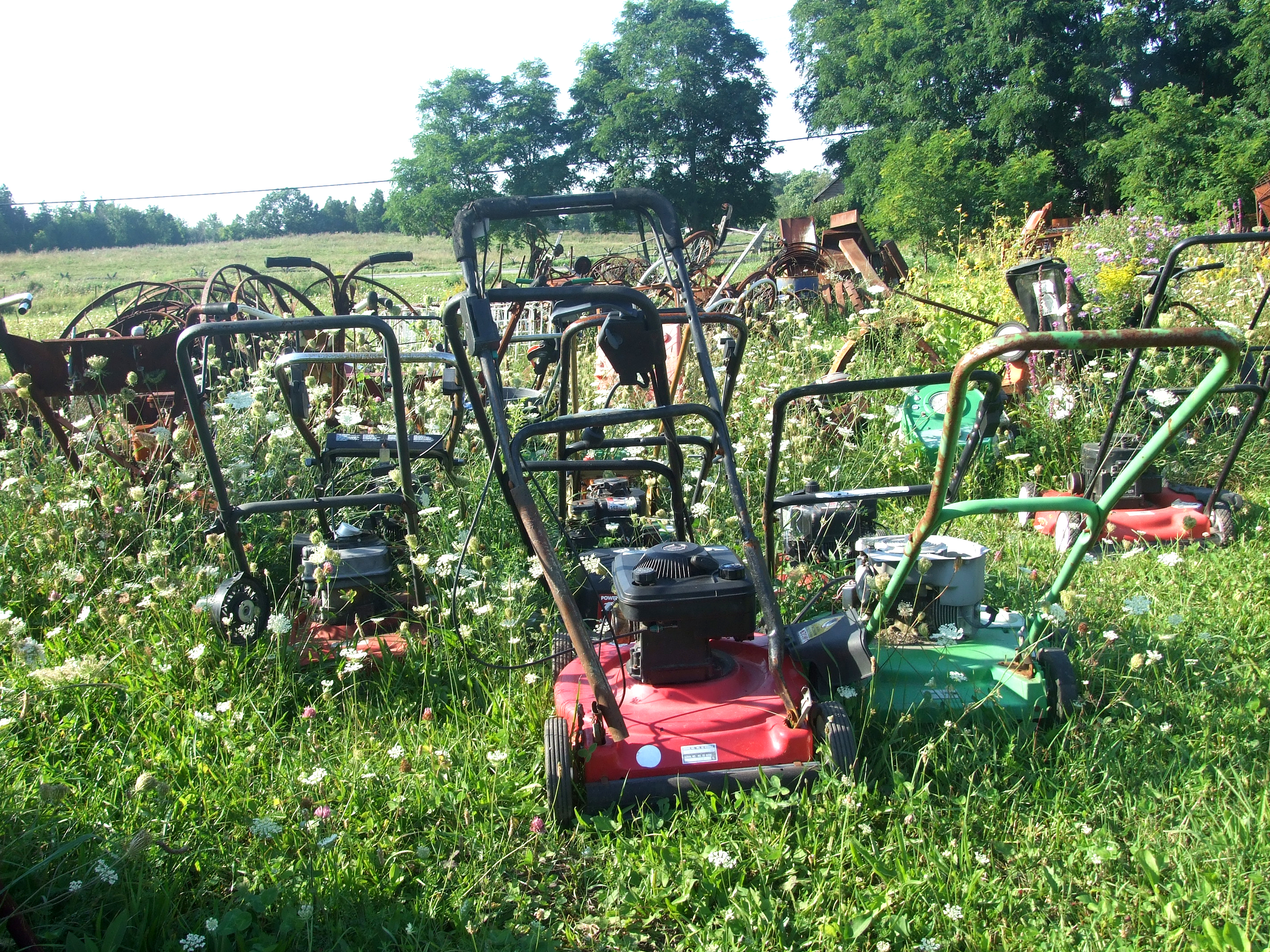 Colourful old tractor seats with brand names such as Buckeye hang on the side of the converted barn, which has a chandelier collection inside and an attic with hundreds of chairs suspended from the ceiling, giving it an eerie haunted-house feeling.
But even more pragmatic types find good reasons to visit. If you have lost a hubcap, look for a replacement among rows of shiny hubcaps from every make of car. Home renovators browse among a huge selection of door hardware, including beautiful cut-glass deco knobs from the 1920s and more ornate Victorian styles. These things attract people from all over — apparently a woman who was renovating a house in Hamilton drove all the way to Lombardy for hinges.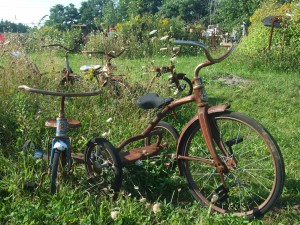 Out in the field in the late afternoon, ancient, rusted farm equipment glows in the warm, fading sunlight. Piles of doors, coils of fencing, shutters, stoves, tubs and windows with colourful wildflowers growing through and around them take on a glorious, fleeting beauty.
"Do you arrange your antiques among those flowers out there?" I ask.
"No, they're just weeds to us," says Clifford.
Weeds or wildflowers? Junk or treasure? You decide. 
If you go
When: Rideau Antiques is open Mondays through Saturdays from 9 a.m. to 6 p.m.
Where: Lombardy, Ont., which is about 85 kilometres southwest of Ottawa.
How to get there: From Ottawa, take Highway 7 west to Perth; from Perth take Route 1 south for about 10 kilometres. Rideau Antiques is two kilometres west of the town of Lombardy.
Where to eat:
In Perth, try Fiddleheads Bar & Grill, 55 Herriott St. In restored Code's Mill, overlooking pretty Stewart Park, Fiddlehead's is open for coffee, tea, lunch, dinner and Sunday brunch. Call 1-613-267-1304.
About two kilometres east of Rideau Antiques, the Lombardy Diner is open seven days a week from 7 a.m. to 9 p.m. Call 613-283-0265.
Rideau Antiques: 613-283-6490 or 613-283-6985
Media
View Print Version of Article
Map
You can follow any responses to this entry through the RSS 2.0 You can skip to the end and leave a response. Pinging is currently not allowed.