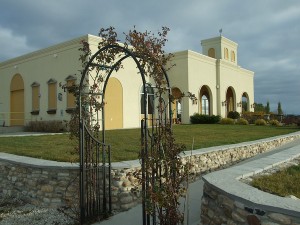 More than 35 wineries, 600 cheeses, 6,000 lakes and the dazzling Cream City brick of Milwaukee.
"After a visit to Italy, we decided to model our winery after a Tuscan villa," Steve Johnson tells me.  A Tuscan winery in Wisconsin? Yes. Parallel 44, high on a hill, overlooking the vineyards in the glacial-etched valley of Kewaunee, looks convincingly Tuscan with its intense hues of ochre, an interior courtyard created by open Palladian arches around the entranceway and floor-to-ceiling windows that let in the strong Midwestern summer sunlight while potted cypresses extend a welcoming nod to the Italian landscape. From a distance, the late afternoon sun bouncing off the building on the hill provides a beacon to guide visitors.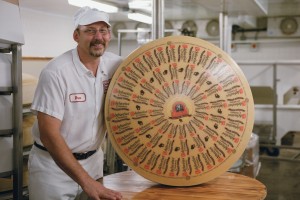 But the question one might ask is – a Tuscan winery in Wisconsin – why?  Wine isn't the first association that comes to mind when you think of Wisconsin. If it's on any kind of gastronomic radar in Canada, especially with its recent Super Bowl success, it's likely for the state's celebrated beer.  Most people also know America's Dairyland makes cheese. What few people know is that before Sonoma, before Napa, there was Wisconsin. It has a well-established wine culture and the state wineries produce internationally award-winning wines with grapes that can't be found anywhere else. It also has an unpretentious, light-hearted and accessible wine-touring scene with a strong culinary tradition founded on its dairyland roots.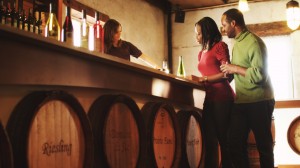 Wine-growing here dates back to the mid-nineteenth century when a Hungarian entrepreneur, Count Agoston Haraszthy, planted vines and built a cellar. The oldest winery in the United States, Wollersheim, is on land originally settled by Haraszthy in southwest Wisconsin. Born in 1812 in what is now Budapest, Haraszthy eventually settled on the Sauk Prairie, on the Wisconsin River west of Madison. Haraszthy planted grapes and dug wine cellars into the hillside slopes above the town. He smelled long, hot summers, but not vine-killing winters. The Hungarian count eventually gave up on Wisconsin's brutal winters and in 1849, left for the Gold Rush in California. He settled in Sonoma where he bought a small vineyard–Buena Vista–where he planted more than 5,000 acres. His cellars were the first stone cellar wineries in California and he's considered the founder of the California wine industry. Haraszthy's original cellars and slopes in Wisconsin are today home to the Wollersheim Winery, one of the state's best-known wine producers.
In the 1970's, Bob Wollersheim took over where Haraszthy left off more than 150 years earlier. He sparked a revival of vineyard planting and serious wine making. Now Wisconsin has five wine-touring regions and over 50 wineries which span the four corners of the state. The vast majority of vineyards here are planted with cool-climate French-American and American hybrid grapes that can survive the harsh winters, with Marechal Foch, Frontenac, Marquette and St. Croix leading the reds and St. Pepin, Edelweiss, La Crosse, Seyval Blanc, Vignoles, Frontenac Gris and La Crescent the main white wines. Many of the wineries also plant more traditional European grape varieties, such as Chardonnay, Pinot Noir and Riesling, however, the hybrid varieties remain very popular and have "cult status," as some of the Wisconsin grapes can't be found anywhere else. Many of the wineries also produce fruit wines, several revisit the farmstead European cider heritage and one or two even produce traditional mead wine.
The state is also famous for its long, sandy beaches on Lake Michigan and Superior and some 6,000 lakes, surrounded by rolling hills and lush pastureland. In spring, cherry blossoms emerge in Door County, the peninsula running between Green Bay and Lake Michigan and in summer, it begins to resemble Cape Cod.  In autumn, Wisconsin has a spare beauty, wispy clouds wafting across bright blue skies over fields of alfalfa and corn spent by a healthy harvest. Hills are dotted with cows and little white churches set against darkly-wooded forests. The late afternoon sun hits the side of a red barn or highlights the window glass of a church.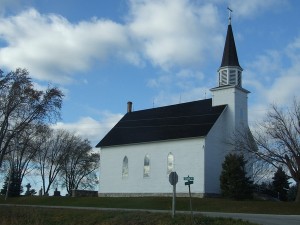 Wisconsin is divided into five wine regions: the Northwoods Region, on the shore of Lake Superior, has ten wineries scattered over the area.  Following the map counter-clockwise, the Driftless Region, in southwest Wisconsin, with Minnesota & Iowa bordering on the west and Illinois on the south, a landscape of high plateaus cut with deep valleys and clear rivers, has ten wineries, of which Wollersheim is one of the better known. Glacial Hills, in the southeast, mainly farmsteads and rolling hills, encompasses Milwaukee, Wisconsin's largest city and extends west to Madison, the capital – it has seven wineries.  Fox Valley, in the northeast, classic dairy farming country, has four wineries, which include Trout Springs and LedgeStone. Door County, further north than Fox Valley, has eight wineries, including Parallel 44.
Wollersheim Winery, near Prairie du Sac, a 3-hour drive west of Milwaukee, sits on a hillside, in a cluster of ivy-covered buildings overlooking the Wisconsin River. It's part of the Lake Wisconsin AVA (American Viticultural Association, or official grape-growing region). Bob Wollersheim, who passed away in 2005, hired a French winemaker from Beaujolais, Philippe Coquard, who married his daughter, Julie. Coquard uses Wisconsin hybrid grapes from the estate's 27-acre production to make the Beaujolais-style Domaine du Sac (with the estate-grown Marechal Foch grape, aged in French and American oak) as well as custom-grown, purchased grapes (from Washington and New York), to produce Chardonnay, Riesling & Pinot Noir and to make the award-winning Prairie Fumé (a crisp, off-dry white made with the Seyval Blanc grape).
LedgeStone is in Fox Valley, about a 2- hour drive north of Milwaukee, near Greenleaf. It is perched at the foot of  "The Ledge," the escarpment — in Wisconsin, this limestone cuesta extends for 230 miles, following the Door County Peninsula. The ledge helps create just the right conditions for grape-growing. Ten years ago, Tim Abel planted five acres (now fifteen), with the help of his family and friends. Over a selection of artisanal Wisconsin cheeses – a Hook's cheddar, a La Clare Farms goats cheese, a Seymour Blue and a Sartori Reserve Parmesan – we try his flagship LedgeStone Frontenac Reserve 2007, a full-bodied, oak-aged red, made from the Frontenac grape as well as a Monarch Creek Cabernet Sauvignon, named for the butterflies his children gather in the nearby creek.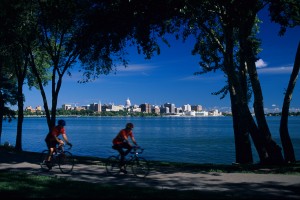 "I can look at the ponds and tell if the fish are happy. Grapes, same thing," says Steve DeBaker, winemaker/owner at Trout Springs. It's on a five-acre farm which Steve and Andrea bought in 1983, which quadruples as a winery, trout hatchery, game farm and plant nursery. They produce dry wines using Wisconsin hybrids, but also have a dizzying number of award-winning fruit wines, such as "Millennium Cherry", made from hand-picked Door County cherries, "Pear Extraordinaire", made from Asian & Bartlett pears, peach, elderberry/blackberry, crab apple and dandelion. But don't let the word fruit deter you – they use traditional wine-making techniques, like chaptalization, to enrich "Peach Perfection," and "sur lie," in the pear wines, to attain a complex, creamy character. Steve has been the lead in getting approval for a new Wisconsin AVA designation, Wisconsin Ledge, which, once official, will help the escarpment wineries compete internationally.
Steve Johnson and his wife, Maria Milano, of Parallel 44, grew up in wine-making families in Wisconsin.  They named it Parallel 44 because it's on the same latitudinal line as Italy's Tuscany and France's Bordeaux regions. After years of searching for the right location, they found the 35-acre piece of land in Door County, and in 2005, they planted their first vines. The wines we taste include the white, semi-sweet, Vignoles and a red, port-style dessert wine called Frost Bite, their 2008 vintage, made with the Frontenac grape.
While there's disagreement about the meaning of the name Wisconsin, which originated with the Menominee Indians, some sources believe it means, 'the stream which meanders through red, " (possibly a reference to the red sandstone bluffs of Wisconsin Dells). However, wine lovers would likely prefer to explain the name as a Native American premonition of Wisconsin's red wines to come – probably the best red wines this side of Tuscany.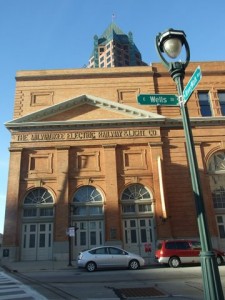 Visit Wisconsin
The Fox River Valley Wine Trail
A self-guided tasting tour that features five wineries. Overnight at the delightful Astor House Bed & Breakfast, in a beautifully restored, 1888 "stick style" house.
www.foxrivervalleywinetrail.com
Frank Lloyd Wright's Taliesin
Frank Lloyd Wright's Taliesin Preservation in Spring Green is celebrating its 100th anniversary.  Wright was born in Wisconsin and considered Spring Green his home. Taliesin was also his workshop and architectural laboratory for 48 years. Taliesin's many wings and terraces reach out along the brow of the hill, which has a sweeping view of the valley settled by Wright's Welsh ancestors.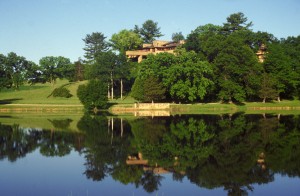 America's Dairyland
Wisconsin claimed the title of "America's Dairyland" and put it on license plates in the 1930's. The state is dotted with cheese shops & factories, making it the largest producer of cheese in the U.S. Six hundred types, to be exact, many recognized by American foodies as class acts. Not only is Wisconsin the only U.S. state with the European-style Master Cheesemaker program (a distinction awarded to craftspeople who complete a rigorous 15-year apprenticeship program), its cheesemakers have won more awards in national and international competitions than any other state or country.
Carr Valley Cheese
"The idea", Julie Vernig, Cooking School Director tells me, as I try the Mobay Cheese, "is to taste each layer separately and then together, for three different flavour profiles in one cheese".  Carr Valley's take on French Morbier—a layer of sheep milk cheese and a layer of goat milk cheese separated by a layer of grape vine ash. Not surprisingly, it won first place at the 2009 World Cheese Competition. The Aged Cardona, a goat's milk cheese, is sweet, with a slight nutty flavour. The Cocoa Cardona is rubbed with cocoa powder, giving it a subtle cocoa flavour.  It is one of Carr Valley's "American Originals" which can't be found anywhere else in the world. Carr Valley is owned and operated by fourth generation Master Cheesemaker Sid Cook.
Harley-Davidson Museum & Iron Horse Hotel, Milwaukee
The $30 million, 100,000 square foot Harley-Davidson Museum, with 450 vintage motorcycles, provides a fascinating tour of the garish, outlandish and beautiful that visitors who are not bikers can also appreciate. The nearby Iron Horse Hotel, (a reference to the motorcycle as the modern iron horse), is geared to the high-end motorcycle enthusiast and buzzes with a crowd that ranges from bikers to business executives. In a converted warehouse in the historic tannery district, its renovated interior captures the sensibility of the great American industrial era and has its details worked out like a theme park.
www.theironhorsehotel.com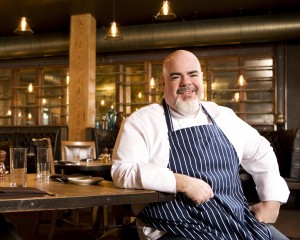 Indulge in Milwaukee
The menu at Indulge Wine Room in Milwaukee offers flights of wine with playful names like 'Dude, Where's my Chard?!, the "White-Cha-Ma-Call-It' and 'Que Syrah.Shiraz.' These downplay the excellent wine list, which includes 60 wines by the glass. The wines are paired with Artisan Plates, selections of creamy Wisconsin and European cheeses, charcuterie and locally-produced condiments and chocolate. The interior of the stylish urban wine room has walls of exposed Cream City brick, an imposing front room tasting table, hand-welded metal tables with granite table tops and dark leather tiles on the walls. Refreshingly, the approach to wines in this very chic space is extremely easygoing.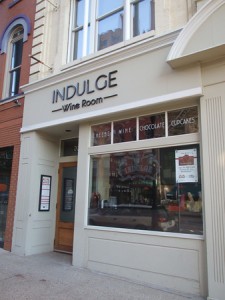 For more information:
Media
Article appeared in Taste & Travel International   https://tasteandtravelmagazine.com
View Print Version of Article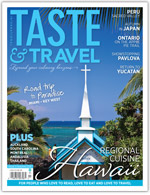 You can follow any responses to this entry through the RSS 2.0 You can skip to the end and leave a response. Pinging is currently not allowed.