Sideways in Toronto – an interview with Gray Hartley of the Hitching Post Winery in California
Posted by in
Uncategorized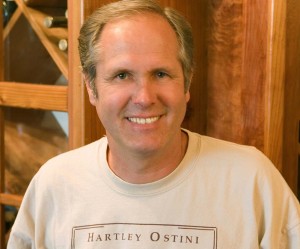 Article to appear  in Taste & Travel International in January 2015
Sideways in Toronto – an interview with Gray Hartley
Diane caught up with Gray Hartley, co-owner and winemaker at Hartley-Ostini Hitching Post Winery, at the California Legends Wine Fair in Toronto. The Hitching Post, located in the Santa Ynez Valley of California's Central Coast, near Santa Barbara, was made famous a decade ago in the 2004 Academy Award-winning movie Sideways.
T&T: You were formerly captain of a commercial fishing boat in Alaska. How did the transformation from fisherman to winemaker come about?
Gray: I was a salmon fisherman for 28 years. The idea of making wine began as a bit of a lark in 1979. Frank Ostini, a friend who is now my partner and chef & co-owner of the Hitching Post Restaurant, said "Why don't we make some wine for the restaurant." We had an old whiskey barrel and away we went. It was so much fun I began making wine for half the year and fishing the other half. Now wine-making is full-time.
T&T: You've become famous for your Pinot Noirs – starting out, why would you have chosen the notoriously difficult  "heartbreak grape"?
Gray: We tried a few Merlot blends first, but in 1981 a friend gave me some Pinot Noir grapes and when I made wine with them, I fell in love. From there, it wasn't difficult.
T&T: Why was the Hitching Post chosen as the location for the movie?
Gray: Partly because that was where the book was based. Rex Pickett, the author of Sideways, kept returning to the restaurant. For several years, he would say "I'm going to write a book about this place." We never took him that seriously. One day he came around with a copy of the book in his hand.
T&T: When you found out the book was not only going to be made into a movie, but had won an Academy Award, you must have never looked back?
Gray:  Before Sideways we had never charged for our tastings. Afterwards, we decided we had better or we would quickly go broke. Sideways definitely gave us the opportunity to sell more wine. Our market had always been local, so the movie made us better known outside California. Our wine sales quadrupled in the year after the movie. We refused to raise our prices and our wine has always sold out fairly quickly. We currently have about 800 barrels and produce about 15,000 cases a year.
T&T: What can we taste at this show?
Gray: We have four Pinots from the Central Valley: our St. Rita's Earth 2009, Julia's Vineyard 2007, Hometown 2009 and PINKS Valdigue 2011.
T&T: How have things changed for you over the past decade?
Gray: We started making our wine in Frank's garage, then the shed and eventually a Wine Co-operative. Now we are making them at the ultra-modern Terravant Wine Company. This has made us more competitive, although it hasn't changed our wine-making traditions. We still create handcrafted wines with poise and balance, which complement the red oak-grilled (Santa Maria style) foods in the restaurant.
T&T: One of your most popular Pinots is labeled "Highliner," another Cork Dancer–  you also earned the title of Highliner. What do these terms mean?
Gray: A "Highliner" is one of the best and most respected fishermen in the fleet, and the name honours the great men of the Alaskan Salmon Fishery alongside whom I worked. Highliner is the "best of our fleet" of Pinot Noirs. Our "Cork Dancer" Pinot was named for the salmon that jumped out of the sea trying to get past the cork line. We source the grapes from the best vineyards and barrels; the voices emanating from each of the vineyards can be heard in balance and harmony in our wines.
T&T: How does the Central Coast differ from the better-known Napa and Sonoma regions for a wine-touring experience?
Gray:  The Central Coast still has a backcountry feel – it is to California wine what Napa and Sonoma were 40 years ago. Farmers get off their tractors and go to the tasting room, so tourists can mix with farmers and growers, as well as winemakers and vineyard owners. It's a very organic experience.
For more information:
Principal: Gray Hartley
Agent: Glen Ward Wine
Tel: 519 471 0151
Diane Penwill is a Toronto-based writer whose Spring 2013 article for T&T on Croatia was nominated for the International Golden Pen Award. Diane's blog is www.savouryplanet.ca.
You can follow any responses to this entry through the RSS 2.0 You can skip to the end and leave a response. Pinging is currently not allowed.