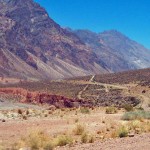 My friend and I hadn't seen a person, restaurante, bar, fruit stand, farm, or even a tree for 100 km. No jeering-cheering locals packed 10 to a pick-up truck for company here. No weeds, no insects, only dust devils. The birds flew so high they were barely visible; they had no reason to stop. The place didn't have a smell.
Our cycling journey began in the resort town of Bariloche, in Argentina's Lake District, a two-hour flight southwest of Buenos Aires. We had booked a last-minute flight, without research. But we had maps, plenty of optimism and planned to do some serious, if limited, cycling on the fabled Route 40. With our three bike days we planned to cycle 267 km to Esquel in Chubut Province.
The 100 km between Bariloche and El Bolson offered exhilarating peaks and valleys, turquoise lakes and never-ending vistas which gave my hungry eyes as much a workout as the bicycle did my legs. The dazzling sunshine was bliss, although the air was thin and the wind strong, so I slapped on sunscreen.
Each turn in the road brought another view of the glaciated Andean foothills that we shared with no one. Rainfed rivers fell thousands of meters in straight lines from high up on mountaintops. Shadows from banks of white clouds created a continuous-play movie on steep, rocky slopes. The steppe was carved by arroyos, dry gullies created by streams.
High on scenery, we arrived in El Bolson, a laid-back town of about 20,000. Next morning we were back on our bicycles. We were innocent of the kind of day in ambush for us. Since the first 100km had been refreshing, we figured to do 167km to Esquel we would just start earlier and push harder. We could always hitch a ride. Worst case, we had a tent. There were a few things we couldn't tell from the map, such as—the entire route was on a slight uphill incline.
"There will be something after that hill up ahead," my friend kept saying. After the first 30km, it was a running joke. After 95km, the joke had worn thin. Thin, like the air, the foliage and our supplies. Just after the 100km mark, we spotted a grove of trees—were we delusional? No, it was a farm, with an empty farmhouse.
So, and as, we progressed south, the landscape became more barren and skeletal. Purple thistles provided the only hint of color. Snow-capped peaks played with desiccated river bottoms. 40km to go. We had to reach Esquel by nightfall.
Nightfall came first. More twists in the road. More uphill. It got colder and windier. At 160 kilometers, I spotted faint lights in the distance and the road began to decline ever so faintly. A mountain bike breezed past.
A voice asked if we needed help. We managed to communicate the distance we had come. Jorgé, who lived just outside Esquel, guided us through the dark for the remaining 5 km, beaming when we asked him to join us for dinner. 
It was about a quarter to midnight when we sat down to eat with our new friend. My first experience with Argentinean beef surpassed its legendary reputation. Admittedly, 12 hours and 100 miles of cycling had given us an appetite. The bold, hearty taste of the Malbec brought the flavor of the beef to ecstatic levels, topping all my dining experience. Sated and stiff, we left with Jorgé to find a hotel and make plans for brunch.
We woke to brilliant sunshine. Esquel had a '50s feeling. Later that afternoon, we noticed a flat-fronted building with the word "Bar" hand-painted on each side of the door, the "Bar Bar" to the uninitiated. Of course, why would the only bar in an end-of-the-line Patagonian town need a name? A quick glance revealed spare walls, a small pool table, and two men toasting each other's lives and shortly after, ours – a first encounter with gauchos.

Descended from the American cowboy, the gaucho has been elevated culturally to a myth and endowed with impossible strength, bravery and honor. The first gauchos were mestizo, of Spanish and Native American blood. They made their living selling cattle, hides and tallow in exchange for tobacco, rum and maté. Early accounts depict them as vagabonds who spent their time drinking and gambling. It was, it seemed, fitting we found them in buoyant mood. They exuded a naïve macho charm and were dashing in traditional bombachas, baggy trousers, colorful braided belts and kerchiefs. When we asked for their picture, they posed flamboyantly. After several hours of laughing, they enjoying shots of each other in our camera's display, we reluctantly left the "bar bar" and promised to send them prints. But myth and history seemed to agree as we found ourselves with authentic fun-loving, hard-working, land-loving men who enjoyed a laugh and a drink.
After that, anything Patagonia had to throw our way seemed possible. We had to catch a flight back to Buenos Aires, although next trip we will cycle further south to see what else the road might have in store.
You can follow any responses to this entry through the RSS 2.0 You can skip to the end and leave a response. Pinging is currently not allowed.